TOP 6 BEST TRENDING APPS IN 2019 FOR ANDROID
TOP 6 BEST TRENDING APPS IN 2019 FOR ANDROID.
Hello Guys, Today in this article you will come to know about the best trending Apps of 2019. Further, these apps are also quite essentials for your smartphone. Meanwhile, Android user must have these Special Apps in their smartphone. We all know that there are lots of Apps available for Android. But people don't like to use them because of their unuseful features.
Moreover, Today we are going to disclose some apps for your Android that you must have to install and use them in your Android smartphone. These apps are designed in such a manner to give you a positive result. You will surely love to use these apps in your Android Smartphone.
SEE ALSO: TOP 5 STEAM ALTERNATIVES THAT EVERY PC GAME LOVER SHOULD KNOW
TOP 5 BEST TRENDING APPS IN 2019 FOR ANDROID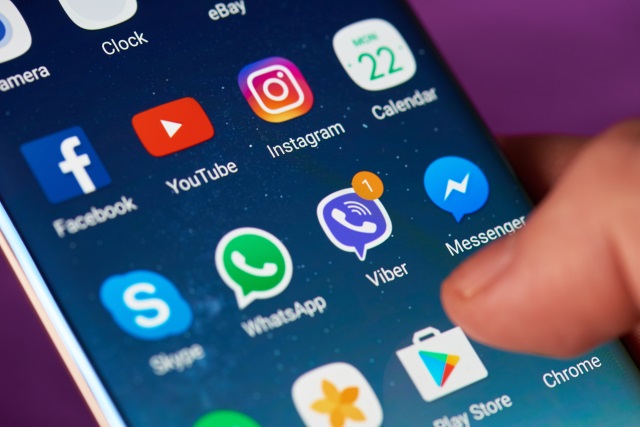 6). SOLID EXPLORER:- This app is available on Google Play Store. File browsing is something everyone inevitably has (or wants) to do, so you might as well do it with a capable, fantastic file browser. Solid Explorer is pretty much as good as it gets in the file explorer apps realm. Further, this app is compatible with all devices.
This app is available of 14-day free trial with a $2.99 price tag at the end of it. Moreover, This app featured Rich customization options: icons sets, color schemes, themes, Drag and Drop inside and between panels, FTP, SFTP, WebDAV, SMB/CIFS clients, Cloud file manager: Dropbox, Box, OneDrive, Google Drive, SugarSync, Copy, Mediafire, Owncloud, Yandex, and lots more features available.
SEE ALSO: BEST METHOD TO BROADCAST iPhone OR iPad's SCREEN WITHOUT COMPUTER
5). SWIFT KEY:- Most of the people love to use this app. With the use of this app, you will come to use most excited and awesome features of typing. Further, SwiftKey is the best swipe keyboard from Microsoft. The SwiftKey swipe keyboard is always learning and adapting to match your unique way of typing – including your slang, nicknames, and emoji.
Moreover, This app is available on Google Play store. It's a free download and you can purchase themes for it if you want to.
SEE ALSO: FREE DOWNLOAD INK HUNTER FOR ANDROID TO SELECT YOUR FAVORITE TATTOO DESIGN
4). YOUTUBE MUSIC:- Are you love to listen to music or stream videos? Then why don't you download YouTube Music app? This application is available on Google Play Store. More than 5 lakh people already installed and use this application. Further, it allows you to easily find what you're looking for and discover new music.
Get playlists and recommendations served to you based on your context, tastes, and what's trending around you. Moreover, This is a completely reimagined music service with official releases from your favorite artists. Also, you will easily find the music you want.
SEE ALSO: FREE DOWNLOAD LATEST GB WHATSAPP APK APP FOR ANDROID (2019)
3). BOUNCER TEMPORARY APPP PERMISSIONS:- This app will increase the security, privacy and battery life of your Android Smartphone. Further, This app is also available on Google Play Store. You can buy this app for $0.99/ (Rs.70). This app will let you allow to grant temporary permissions to applications.
For instance, You allow any application of your Android smartphone to get access to your location and Bouncer disables the permission once you leave that application automatically. So, you don't have to worry about your privacy and security.
SEE ALSO: FREE DOWNLOAD GB INSTAGRAM APK APP FOR ANDROID IN 2019
2). 1WEATHER:- This is one of the best apps that you should have in your smartphone. this application will show you the weather updates over the Home screen of your smartphone. Further, This application is available on the Google play store.
Whether you want to check the temperature, precipitation forecast, Doppler radar, or simply keep up with the current phases of the sun and moon, 1Weather has you covered. Plus, it's outstanding design, makes getting your weather info both easy and fun. Why wait? Make 1Weather your weather today.
SEE ALSO: Facebook APK For Android Best Photo App
1). Xnspy:- One of the most important applications that you should have to use at least once. Because If you would like to look into someone's cell phone activity, you just have to install Xnspy on their phones and see what they are browsing or who they are calling and texting. Xnspy is a smartphone monitoring app that works with all Android devices (Android 4.X to 9.X) unless you have a very old device to monitor!
The app only requires one-time installation, so you don't have access their phone over and over again. Xnspy app also gives you have the option to keep things discreet by hiding itself on the monitored device. You can get your Xnspy subscription starting at $4.99/month.
Above we had shared the list of latest best android apps. Further, To get more updates subscribe and stay tuned with Mrdhukkad.com.
SEE ALSO: BEST TOP 5 FREE SCREEN RECORDERS 2019 FOR WINDOWS MAC LINUX
SEE ALSO: FREE DOWNLOAD ANDROID EMULATORS FOR WINDOWS PC/MAC (2019)