TIPS TO DELETE FACEBOOK ACCOUNT PERMANENTLY 2019 UPDATE
TIPS TO DELETE FACEBOOK ACCOUNT PERMANENTLY 2019 UPDATE
Facebook is one of the most useful and most popular social media platforms. Millions of people from worldwide visit Facebook every day. It is quite easy to use this platform than any other social media platform. Moreover, this platform is also used for business purpose as well as personal purpose.
However, many people want to delete their Facebook account permanently. So today, we are going to share the steps to be followed to delete the facebook account permanently. But one thing that most of the people thinks that they delete their facebook account permanently by deactivating their account. which is not true!.
SEE ALSO: MOST INTERESTING THINGS TO DO WHEN GETTING BORED
Furthermore, there is a major difference between the deactivation and deletion of Facebook Account Permanently. Deactivation of Facebook Account means that you people can't see your Facebook timelines. Further, you can again reactivate your account by simply enter your login Id and password on the https://www.facebook.com.
However, Deleting the Facebook account means that you can't able to regain/reactivate your facebook account in some future date.
So below we are going to show you how you can completely delete your Facebook account permanently within 2-3 minutes. You just have to follow the below steps. These steps surely delete your Facebook Account permanently.
TIPS TO DELETE FACEBOOK ACCOUNT PERMANENTLY 2019 UPDATE
Step1:- You just have to click on Delete Facebook Account. But make sure that you had already login your Facebook account before starting this process.
SEE ALSO: TIPS TO KNOW WHO VIEWED YOUR FACEBOOK PROFILE MOST 2019
Step2:- After the Click, you will be directed to the facebook account delete page. Here, If you wanna just Deactivate your facebook account you have to click over the Red highlighted box and then follow the rest procedure.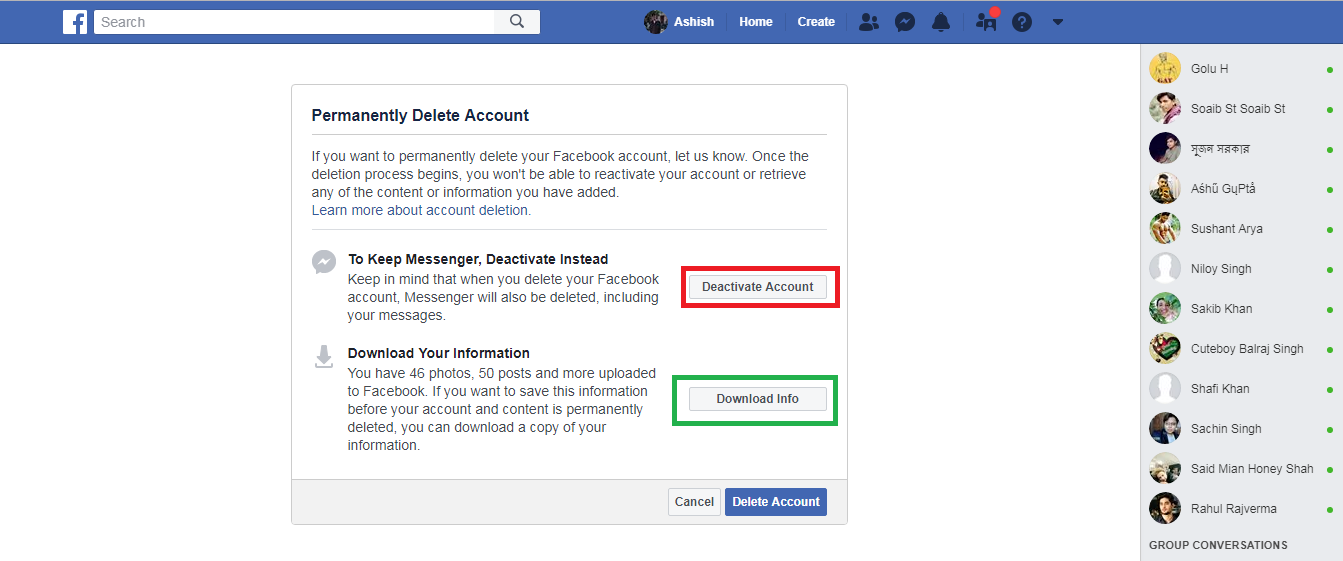 Step3:- If you wanna delete your Facebook Account then we highly recommend you to click over the green highlighted box in order to save all your Facebook Images, Data, and so on OR you can directly click on the Blue highlighted box to delete your Facebook account permanently.
By following the above steps you will successfully delete your Facebook Account Permanently. So, stay tuned with MrDhukkad.com to get latest updates.