How To Create Seller Account On Flipkart:-
How To Create Seller Account On Flipkart. Hello friends, once again we are here to update you about Flipkart Seller account. Into this article, you would come to know about "How To Become A Seller At Flipkart ?" , Before telling you the complete procedure in detail. We want to tell you about a small description of Flipkart and either you had to depend too much on your Flipkart Seller account or not.
Flipkart is an Electronic E-commerce based company started in 2007 by Binny Bansal and Sachin Bansal. At, present C.E.O of this company is Kalyan Krishnamurthy. Flipkart had one of the most experienced and expert people working along with it. One more thing happened with this company into this year 2018. Which is quite big news.
SEE ALSO:- LIST OF BEST TOP 5 E-COMMERCE PLATFORM
Flipkart merges with Wallmart in the month of May 2018. After this merging so, many things have been changed into this company. As earlier this company has never thought of doing QC of the physical quantity of stock their sellers have. Now, they are doing it on a random basis for improving the quality.
Either You had to Start Your Business With Flipkart Or Not? 
We had found that sellers, who are new on this platform do not have quite good knowledge about this kind of business. Most sellers think that all they have to do is list the products on selling portals then, they will get orders and after that dispatch the orders. Next thing which will be going to happen is you will get money for the product you had sold. My dear friends' picture is quite different from this.
If you are doing online business then, keep one thing in your mind and that is RTO (Return To origin) and RBC (Return By Customer).
Yes, if your RTO and RBC quantity are more then, 6 % then again as in this scenario you will going to make a huge loss. So, do complete research and think very smartly before starting the online business. Especially in the case of Flipkart – If you are having a good financial backup. Only then, start a business with Flipkart. As return quantity in Flipkart is quite High in the beginning.
How To Create Seller Account On Flipkart:-
Now, its time when we are going to tell you about the method through which you can create your Flipkart account. Just follow below given steps:-
1). First Of all, you have to visit the seller. Flipkart web page. For signing up your account – Click Here.
2). Onto that page, you will get an option of register today – Over their just provide your Email ID and mobile number and click on Start Selling tab.
SEE ALSO:- How To Start Your Ecommerce Business As Vendor
3). Now, after providing req. information and clicking on Start Selling tab you will reach a new page. Over there you will ask for your Name, Email ID, Password and Mobile number. Also, make sure that your mobile is active and you have that number along with you as you have to verify your mobile number.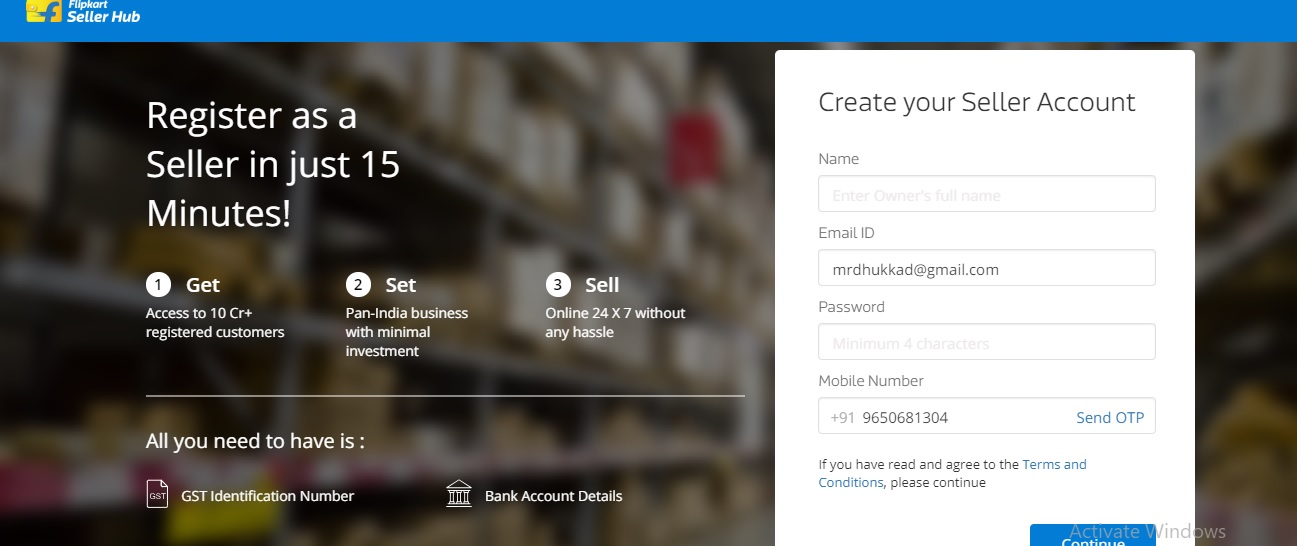 4). When you fulfill all 4 required information and verify your mobile number in that case you are eligible to go onto the next step. Yes, the next step is all about selecting your primary category into which you want to sell products. For Ex- If you had to sell goods of Men's Clothing then, into that given list you will tick in front of Men's Clothing checkbox and then submit it.

5). Now, the next thing which you have to do after this step is to provide your pick up location pin-code. You will transfer to next page after providing previous req. information. Then, fill up the Pincode and provide your complete address and then, click on submit.

6). Congratulations now your Flipkart account has been created. You will get a link to verify your email/Gmail account on your mail id. Then, you have to provide the remaining information belongs to your account. Now, you have to provide your Business Details, Bank Details, Store Details and Add Listings.

Now, when you provide all this required information then, your account will go to verification of documents and if you had provided all the details correctly then, your account will get activated and you can start selling your products on Flipkart.com
If you have any query or issues related to this topic. Please feel free to contact us and get all latest updates belongs to this E-commerce and Flipkart Seller account.