BEST ACCOUNTING SOFTWARE TALLY Vs BUSY
Hello guys, Accounting or Maintenance of Book of Account is very much important for all type of organization or Businesses or Enterprises. It will help you out o easily calculate or estimate the position of your firm. In Ancient time, The accounting or book of account is maintained manually which requires lots of Humanitarian efforts and time as well.
But in the current era, the Maintenance of the book of the account becomes easier and time-saving. As lots of tools are available in the market that allows you to simplify your work or accounting as per your requirement.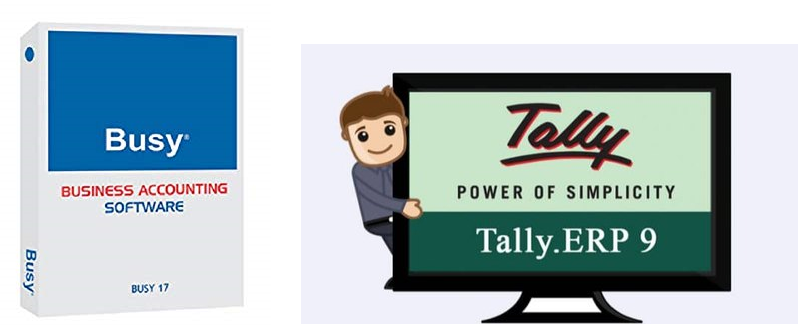 SEE ALSO: EASIEST WAYS TO CHECK YOU ARE MAKING LOSS OR PROFIT FROM STARTUP
Today in this article we are going to disclose some real facts of "Tally" and "Busy" that will surely help you to choose the Best Accounting Software for your Business. Tally and Busy both are paid software. Both these software are designed to keep in mind each and every point of the users. These are the software that will fulfill all the requirements of an Entrepreneur.
| | | |
| --- | --- | --- |
| Points | Tally | Busy |
| Desktop Platform | Windows | Windows |
| Mobile Platform | Not Available | iPhone/IPad/Android |
| Plans and Pricing (Started) | 7200 (Per Year) | 18000 (Per Year) |
| Accounts payable | Yes | No |
| Accounts Receivable | Yes | No |
| Analytics | Yes | Yes |
| Barcode Integration | Yes | Yes |
| Bonus, Loan & Advances Management | Yes | Yes |
| Email Integration | Yes | Yes |
| Graphs and Charts | No | Yes |
| Types of customers | Startups, SMEs, Agencies, Enterprises | Startups, SMEs, Agencies, Enterprises |
SEE ALSO: HOW TO START GYM AND PROMOTE
Above we had shared some of the basic comparisons between Tally and Busy. Both software is very easy to use and time-saving. Moreover, Tally and Busy are the software that is trusted by millions of users. Further, some other most useful software is also available in the market. Well to choose the best Accounting software is totally depends on what type of business you are going to start. Both tally and Busy are best in their own way to solve the problems of their users.
Furthermore, Above we had shared the basic difference between Tally and Busy. So, Stay tuned with MrDhukkad to get more updates.
SEE ALSO: A Guide for Hiring the Right Financial Analyst
SEE ALSO: 5 Reasons Why Team Building In A Business Setting Is Important?
SEE ALSO: Guidelines For Real Estate Professionals To Acquire Knowledge
SEE ALSO: What Are The Advantages Of Working Capital Management?